By Admin
We've all seen how budgeting with spreadsheets plays out after a while:

Budget_final_1.xlsx
Budget_final_2_actuallyusethisone.xlsx
Budget_final_7_thisisthecorrectbudget.xlsx
When you use Figured for your planning, you'll have your client's live accounting data hooked directly into the same place that their Annual Plan lives. This creates a single source of truth for all management reports and plans, so that any time you look at a report in Figured you'll know that this is the current plan that they're working to. If you're like many Figured users, you'll also have other members of the Farming Team invited to the file.
When a farmer uses Figured for their budget, they have an average of 4.7 people invited to their file
Having lots of people involved would normally make it difficult to keep track of different versions of their Plan, what version of Actuals they're using, and sending out different copies of spreadsheets only adds to the mess! You don't want another budget_final_7_thisisthecorrectbudget.xlsx floating around, especially when you've got multiple people working on the same document!
The three most popular reports in Figured are the Cashflow, Variance, and Profit & Loss reports.
Building reports & sharing them out of Figured is easy - because you can trust the data going into it, you can manage the information that comes out of it. For members of the Farming Team that aren't on Figured, like bankers, sharing reports from Figured is the best way to keep them in the loop.
Every report in Figured has a Share button, so that you can Save Report: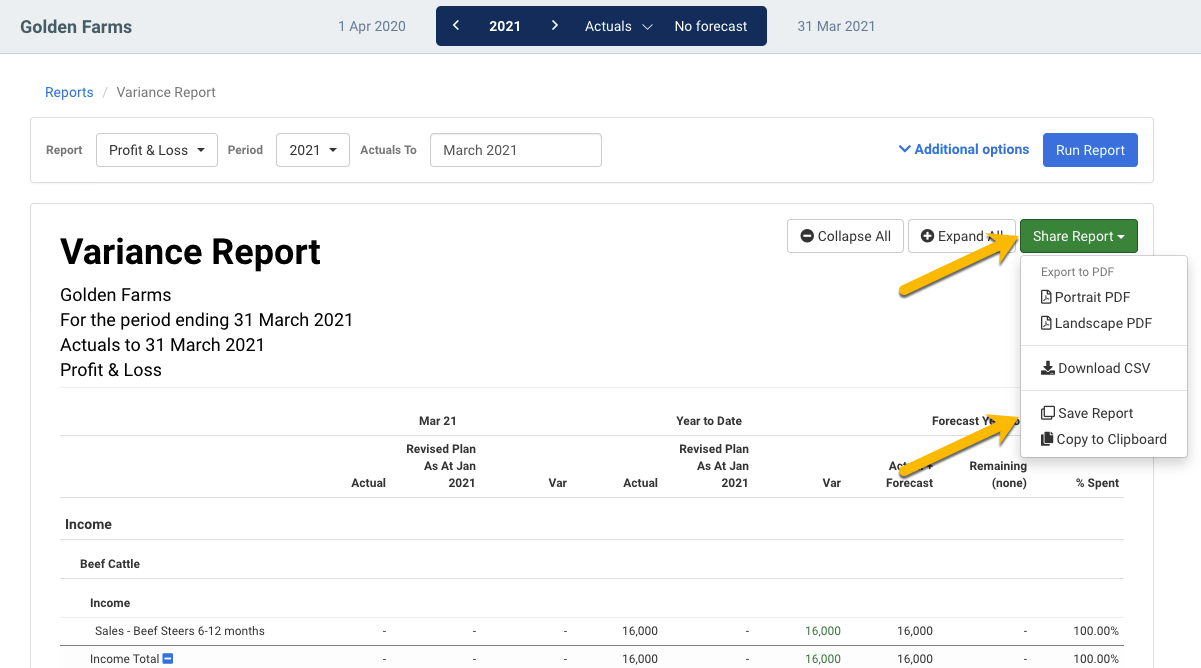 This creates a copy of that report at this moment of time, with all of the Settings you choose. Running the report isn't the whole story though - it's your feedback & professional opinions that make the biggest impact, so we encourage you to then click on a number & add a comment. Those comments could range from querying variances, through to congratulating your client on managing their cashflow!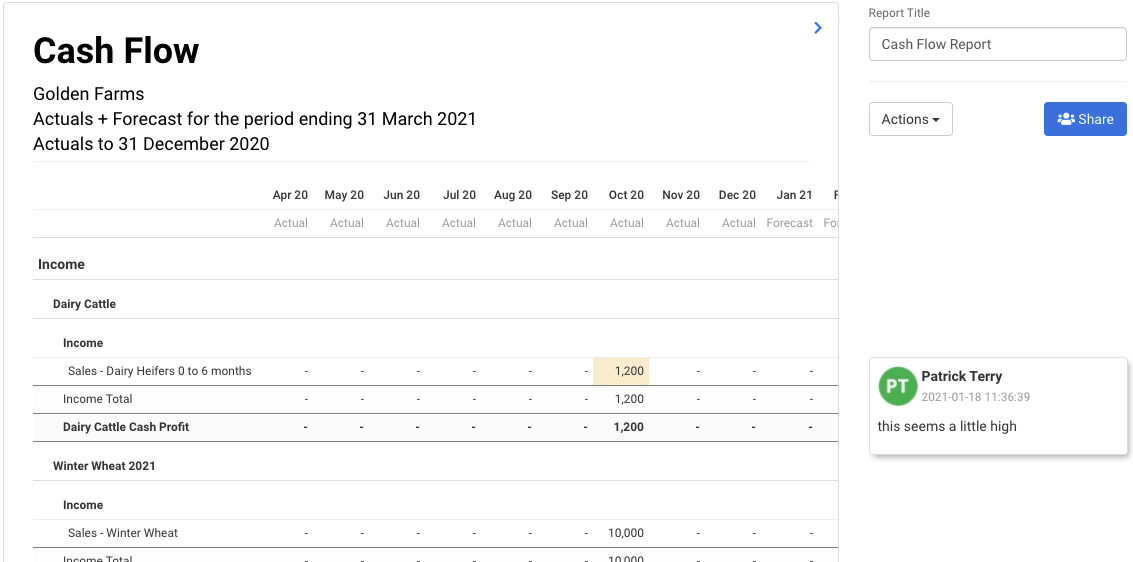 When you click Share and send the report to another person, they'll receive an email inviting them to review the report. The invitee can only see that report, which is great for managing what information gets shared. To keep this collaborative, they can also add their own comments in reply to you!
Go ahead & try it out - open up a farm in Figured, head to Reports, and run one of the most popular ones. The opportunity to help your clients is huge!