By David Kirby, Executive Vice President, Europe & Americas
It feels like an age ago when we launched Figured in London, alongside Xero and a collection of leading partners. Like any two year old, we've grown up fast and even with a few tumbles are getting a much clearer sense of our role and fit in this market. The last two years have seen major changes to the product, our team has grown, we've entered Ireland, and generally enjoyed building out great partnerships with innovation-focused accounting partners and banks in the region. More below...
Two Years of Product Releases
Over the last two years we've had over 1500 updates to Figured, and every single person using Figured has access to these updates. We've launched new features and made the product more flexible, functional, and easier to use. Here are some of our highlights:
Arable - a totally new tool to support on-farm profit reporting with a product, season, and field level view of profitability.
Scenarios - bring a year's worth of Xero data into a long term business plan to quickly plan the next 2-10 years.
Integrations - we've integrated with ICBF for Republic of Ireland livestock movements, BCMS for the Cattle on Holding report, and launched v2 of the Figured public API suite.
Benchmarking - segmenting your clients in any way you want, Figured Benchmarking does the heavy lifting for you to quickly launch your quarterly benchmarks.
Flexibility - we've transformed the planning workflow with the Rolling Plan in Figured. It's now faster to get started, and more flexible for planning across any harvest or financial year. Xero forms your opening position, and you can start forecasting straight away.

Covid-19 & Partner Support
Plans for every farm

- at the onset of COVID-19, we upgraded every farm in Figured to have access to our full budgeting toolkit. We wanted to support farmers by giving them the tools they need to build bank-ready plans.

Stepping up enablements - we work closely with partners coming onboard to make things as seamless as possible. We've expanded this to include status quo scenarios too.
Supporting client engagement - from hosting webinars with hundreds of farmers, to supporting our partners with one-on-one client engagements, our team has the content & support in place to promote remote work.
Xero & Figured - supporting accountants & farmers
Our joint agri centre has a bunch of resources and information on how you can take the power of Figured & Xero to your clients.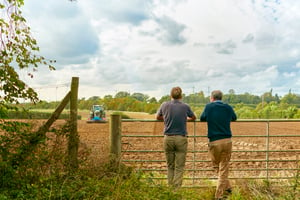 Estates and Diversified farming with Figured
See how Figured and Xero help you manage the finances of you diversified enterprises

UK Figured Farmers: Oscar van der Spruit
Oscar is one of Figured UK's early users, and works alongside his son running a Dairy farm in the west of Scotland.

The Long-term view of your farming business
Figured's Scenario tool gives you the ability to quickly and easily plan ahead for 2-10 years.