By John Gibson, General Manager, Australia & New Zealand
We've reached an important milestone in the Figured Insights journey, as well as for the wider agriculture industry and we can't wait to share this news with you!
Portfolio Modelling with Actuals and Forecast data is live on Figured Insights!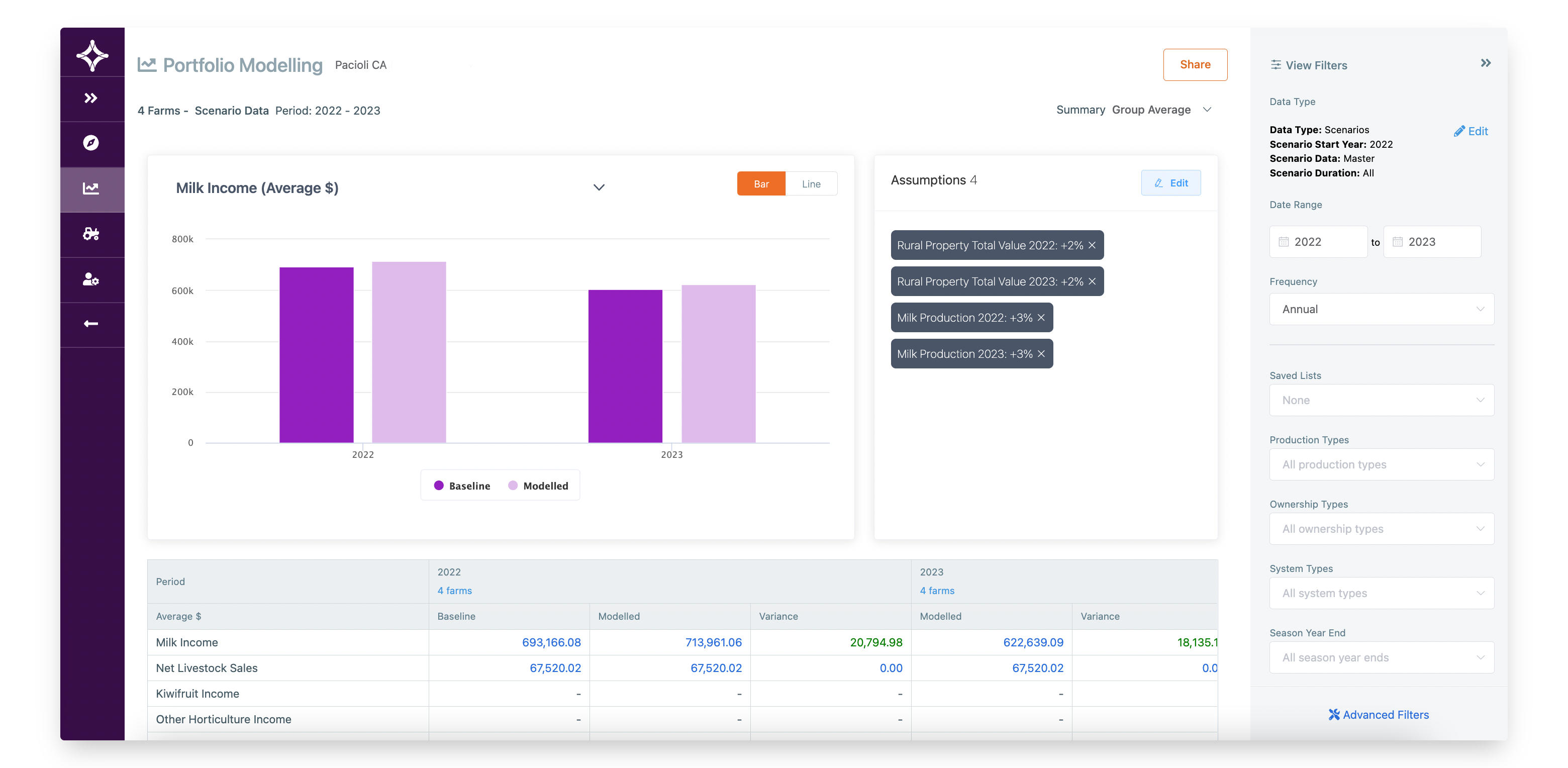 "Figured Insights is where we can get our advisory piece right. What used to require time spent building multiple excel sheets, we can now do with Figured Insights with much more efficiency and standardisation across the firm. It gives us access to the real-time data that we need to make decisions quicker and with more confidence. From there we move to budgeting and then to management reporting, all of which we can do within the Figured ecosystem."
- Nigel McWilliam, Director at MBS Advisors
With the release of Portfolio Modelling, we're excited to mark a major update to Figured Insights. We'd like to thank the firms that joined Figured Insights as early adopters to test and share their feedback to shape the direction of this new product.
When we first launched Figured Insights back in November, the world of agri business looked different than it does today. We were anticipating rising interest rates and were already feeling some of the effects of inflation. And on-farm we were coming off the back of one of the warmer winters we've experienced in some time and rocketing milk price. But if the past six months have taught us anything, it's to not underestimate just how fast and far things can really change.
This is why access to the on-demand forward-facing financial insights that Figured Insights provides is essential for farmers. It's no longer viable to look backwards at year-old data to make decisions in a world that's changed drastically since then.

Figured Insights provides a new way forward with the launch of Portfolio Modelling with Actuals & Forecast data - a forward facing tool that gives advisors the ability to model anticipated changes across farms to stress test scenarios and understand risks. Using data as it is today, not a year ago, it provides your firm and your clients the clarity and agility that is needed to make decisions today and based on your forecast.

And this isn't the end of the journey. There is more to come and we're looking forward to sharing more with you soon. Get in touch if you're keen to see how this could work in your practice.
---

Join 30,000+ farmers and advisors
Become part of our growing community and never miss a beat on all things agri. Get the latest local industry news and insights delivered straight to your inbox.