By John Gibson, General Manager, Australia & New Zealand
Let's be honest - to most businesses interpreting a balance sheet is a dark art, especially when it comes to relating balance sheet decisions to the real world that they operate in day-to-day. If I invest in this today what effect will it have on my equity over time? I have this capital cost coming at me, how will I fund it and what impact will it have on the value of my business? Up until now these questions have been difficult to model and answer with any confidence.
We've just solved that. Today sees the release of a major improvement to how Figured handles and presents the financial position of the farm. The new Statement of Financial Position capability, working alongside the improvements we've made to our balance sheet integration with Xero, enables farmers and their advisors to quickly and accurately understand a farms equity position at any point in time. With this new feature, you can now model the impact of investment on the balance sheet with ease - highlighting the impact (positive or negative) of these changes to the business and its shareholders. It's another way Figured is empowering their farmers to run better farming businesses and improve the quality of financial decision making for the overall performance of the business.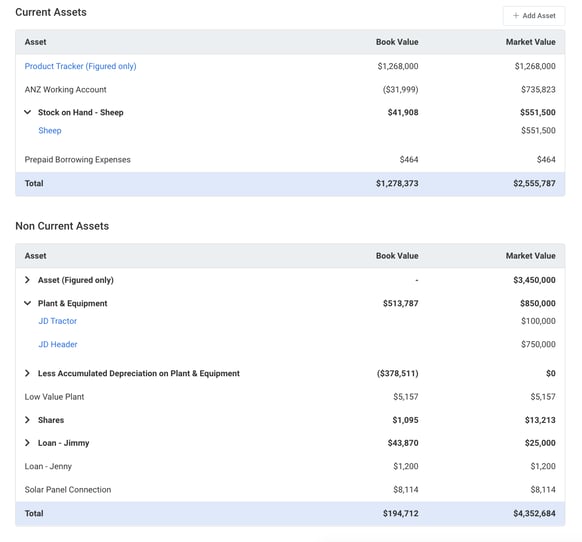 Farmers all around the world are facing a multitude of challenges, changes and opportunities - the shift in subsidies in the UK, environmental and emission compliance requirements, as well as expansion and diversification opportunities. All of these will require some form of investment or change to the business, impacting on the shareholders investment - how will you model this and understand the right time to invest? How much should you invest and what is the impact of that investment? This is where our new Statement of Financial Position capability and balance sheet improvements really come into their own. Not only can these scenarios be quickly modelled and understood by the whole farming team, but it then means a farmer can go to their governance group, financiers or family with increased confidence that their investment plans will be supported and the entire team can openly collaborate around the model, sharing their individual expertise in the decision making process.
If you are a Farmer, Accountant, Consultant or Banker and would like to know more about this exciting new feature release from Figured, please contact us, we'd love to chat! Reach out to us via the green bubble in the bottom corner of this page, or use the link below to leave your details and we'll get in touch with you.
To find out more about how the Statement of Financial Position works, and how it can make navigating the balance sheet easier, please check out the help centre articles in Figured's Help Centre.