By Paddy Terry, Partner Success Manager
We recently sat down for a chat with Lincolnshire farmer, David Dunn, to discuss how he and his family completely changed their family farm from a traditional dairy operation to a diverse farming business - now running a Stabiliser suckler herd, a B&B pig unit, a full nine-stable livery, and third party operation of an an AD plant.
How big was the dairy operation before you changed direction?
We're on a small farm, for North Lincolnshire standards, as it's only 150 acres - many arable farms in this area are upwards of ten times the size of our farm, which limits our earning capacity. We started with a dairy herd in 1961 and ran that until 2007, with the herd size peaking at about 140 cows.


How did this shift from dairy come about?
Dairying is pretty rare in this area, it's mostly an arable area so it wasn't the norm to run a dairy herd. In 2007 we came to a crossroads where we could continue on with the dairy herd after some significant investment for the next generation, or look in a different direction. To be honest, nobody wanted to carry on milking cows - there was still a desire to farm, but nobody wanted to carry on with dairy. So as a family we decided there was no point investing £250k on upgrading the dairy operation if it wasn't something we wanted to do - so we got together with our advisers at ADAS and began to devise a new strategic plan for the business.
The cows went in 2007, and for seven years we were really just treading water - we put all of the lands into arable and got contractors in to do the farming and it ticked over. But it was never going to generate enough income to support us as its too small an area to be financially sustainable.


How did you come up with a plan for the change?
Well, we had to do some serious thinking with our advisers at ADAS about intensification and diversification, as not only did I want to farm here but my brother as well, so we needed to be able to support the two families.
Together we looked at the resources of the farm and the skillsets of the people involved to come up with an idea that would create enough income to support two families on just 150 acres. We looked at a couple of things, one being a B&B pig unit, which would involve significant investment and borrowing. We also wanted to continue working with cattle, but we needed a profitable enterprise with the capacity to grow - and that's where our Stabiliser suckler herd came in.


What is a Stabiliser herd?
Through ADAS we heard of the Stabiliser breed, which is a composite breed that uses hybrid vigour to emphasise the real production traits for a suckler herd. For example, making sure you have a calf born every year, good growth rates, good herd health, reduced antibiotic usage, the ability to run higher stocking rates than other breeds, and the ability to graze grass on rough ground and survive without the need for much extra feed.
So, after hearing about it, we thought this is the breed we want to carry on with, let's give it a go - in 2014 we bought 10 in-calf Stabiliser heifers. Because of the prolificacy of the breed, the herd now stands at 92 in number – although we did buy 12 in last year, that's all we've bought in, the rest have been bred on farm.
We have had an element of luck in the fact we've had a lot of heifers which has helped grow the herd, but the flip side of that is we haven't generated a lot of cash from the herd as you're keeping the heifers rather than selling the bulls. Some years we've had 80% females, so cash has been tight and we've had to be really strict on our budgeting and planning and getting up to date financial information is key to the financial management required.
We have some big aspirations for the herd - at 92 head, the herd currently has 50 breeding females, and we're hoping to have 200 breeding females by 2027, which is part of the strategic plan we put together.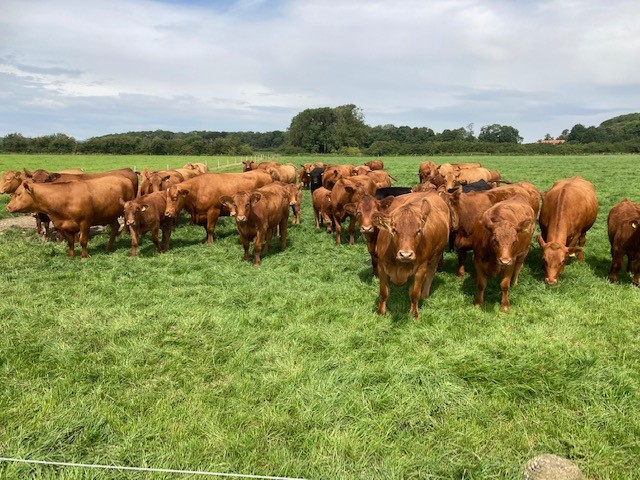 What else was in your strategic plan for the farm?
The Stabiliser herd is our long-term focus, but we also needed a cash earner. We needed an enterprise to give us regular cash flow, as risk-free as possible with regard to input costs and product sales - which is not easy in agriculture! The B&B pig set-up seemed to tick the majority of the boxes for us. We started work with BQP (British Quality Pigs) to put the facilities in - it was a significant cost, but in our plan, we could see a route to profitability so that was under control. You don't own the pigs and you don't pay for the feed, you just charge a management fee. So it was regular cash flow that didn't fluctuate when it came to the sale of the products or the cost of feed, which was the risk-free operation we were looking for.
We were also able to export the other output from the pigs, which is the manure, to the AD plant which is another diversified income stream. I feed and manage an AD plant for another farmer, and he pays me a retainer for that which feeds back into the farm as a separate income stream.


Have you diversified any further since adding the pig operation?
Well, my father had always wanted to have a livery yard on the farm too, but he didn't want to start a new enterprise without the right people around who had the knowledge and skills to run it successfully. It wasn't until my brother married someone who knows horses well and has a degree in equine science that the idea clicked. So we've put in nine stables for a full livery service, and we also constructed a menage arena for the horses as well. We're always on the lookout for other enterprises as well, we have an idea for the future to convert some older brick stables into holiday lets too - but that's a project for another day.
We didn't have the land area to go down the traditional farming route that you would go down on a 5,000-acre farm, we had to think outside of the box to create enough income from the land we have.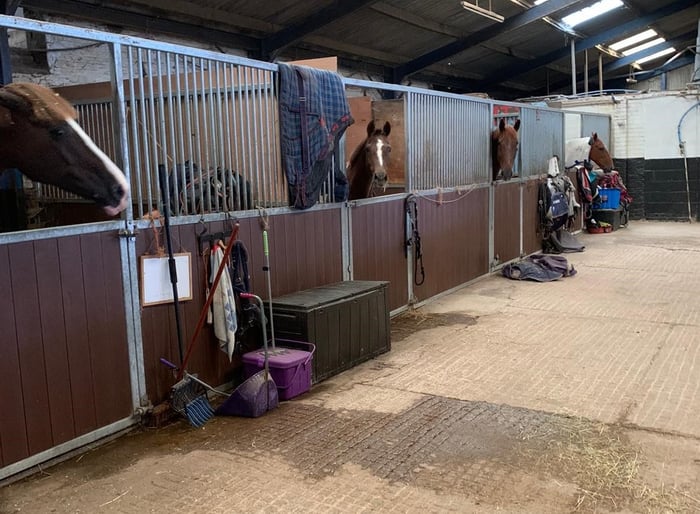 Where did Figured & Xero come in?
With the various enterprises we have, what I needed from Xero and Figured was the live data. I wanted a cloud-based platform that I could give advisers access to - I wanted my accountant and my banker to have visibility across my monthly performance, but also have the ability to view the budget and how that was tracking against reality.
We did look at other platforms, but it needed to be something the accountant was able to use, and we needed to be able to forecast and budget in there as well, as far as I know, there isn't anything else out there that can do the live month to month reconciliation and forecasting.
So Xero and Figured were a great fit, especially with the added input from ADAS in terms of ongoing advice. I can use Hubdoc to import invoices automatically and completely get rid of paper-based accounting and endless boxes of invoices! I can then do a baseline allocation before it comes through to Figured, where I can keep my stock records up to date to ensure I've got a live monthly P+L and Balance Sheet.
I can then do my forecasting and budgeting on the back of that live data - I am still learning how Xero and Figured work, but I know where I want to go with it and if it can get me there that's great.