By John Gibson, General Manager, Australia & New Zealand
Along with Xero and PaySauce, we showcased the benefits of integrated software built for farmers
The Southern Hemisphere's largest agricultural event, and the ultimate launch platform for cutting edge technology and innovation - Fieldays - has come and gone, and was the best yet.
The four days blended into one for the Figured team as we embraced the opportunity to meet with current customers and welcome a whole bunch of new customers. The team was kept flat tack taking the constant stream of farmers through Figured and getting them excited about how far planning software has come from what they've been used to. The nods of approval were a great indicator of the value farmers saw in Figured's ability to help them drive a business that has become increasingly more complex and challenging.
The real eye opener for farmers came from the ability to seamlessly integrate planning and budgeting with Xero's automated bank feeds, transaction coding, financial and GST reporting. Adding PaySauce into that same connected model, with a farm specific payroll solution, and a farmer has a best in class tech platform at their fingertips. With record numbers through the gates, it was no wonder our teams barely had time to stand still.
Momentum grows for technology that makes a difference
The Farmers we talked with were generally in good spirits. The 2021/22 milk season is looking strong, sheep and beef prices are holding up and the horticulture market is upbeat. But they also have a lot coming at them too. Off the back of that we saw a genuine interest in the latest developments in technology, and an open mind to investing in technology that will add value. In 2019, over $550m was spent at Fieldays, and the 2021 event looks set to significantly exceed that amount. The chance to see, touch and experience the latest technical innovations really drew the crowds, as well as having face-to-face time with the exhibitors and presenters. Being able to interact and get an up-close look at the latest developments in farming was a rare and welcome opportunity for the farmers we spoke to.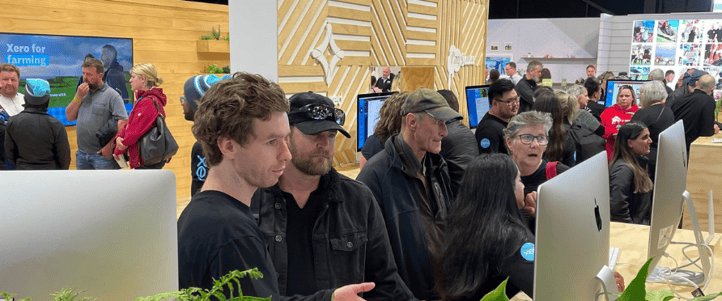 For the team at Figured, we loved the opportunity to talk to people who were clearly shopping around for the right planning and budgeting software for their business. When we went onto explain the power of integrating Figured with Xero and PaySauce it was clear we'd crossed into a new way of working for farmers - the idea of connected software, sharing data, a single source of the truth just makes good business sense. The benefits are highly relevant to farmers - they want to know how this will save them time and reduce double handling, show them where they're at and help them achieve their goals. No one is doing this better for New Zealand farmers than Figured, Xero and PaySauce. And nothing brings the story to life better than hearing from one of our customers, and we were particularly fortunate to have a good friend of Figured, Matamata dairy farmer Matthew Zonderop speak on our stand each day. As Matthew said, "I can see the numbers clearly, in a way that makes sense to me. It makes it a lot easier for me to make good decisions in advance. Before getting on to Figured I didn't always feel in control of my budget and it was taking up a lot of my time. Getting on to Figured has been good for me, it gives me a lot of peace of mind today."
The scale of this year's Fieldays event was incredible. To see just how much cutting edge technology is being developed for the primary industry was truly impressive. We were thrilled to be a part of it, and to see the optimism and energy in the sector. If you weren't there this year - we hope to see you there in 2022.
Find out more about the definitive technology stack to help you run a more informed and efficient agribusiness.