By Zainab Al-anbuky, Chief People Officer
A fresh take from our resident interns
"Joining Figured was one of the best decisions I've ever made." - Dan
"The culture didn't only make an impact on my work life, but also on my mindset of what work or careers should look like." - Chelsea
With a number of our great Figured developers starting their Figured journey as interns, we know the value of bringing in great interns and designing a programme that nurtures those emerging talents. Once again through our friends at Summer of Tech, Figured had the opportunity to find five amazing interns to take on an all-encompassing 10-week development internship; with a real focus on maximum learning and making a real impact. We got their take on their experience interning for Figured and here's what they told us.

Real learning experiences
"Unlike other internships that tend to have you working on intern specific projects, we got assigned to a wide range of actual development tasks that gradually increased in difficulty over the course of the internship." - Patricia
Hands down, the best learning happens on the job, and closely followed by role shadowing more seasoned people. The internship was packed with micro experiences that challenge and stretch our interns (in a good way) whilst ensuring they have a solid support system. For each intern, this meant having their own small development team (pod) where they focused on their own product starting with small fixes and working all the way up to developing new features or refactoring major code, they got to enjoy the support of their own mentor (Dev lead) and buddy (often a previous interns).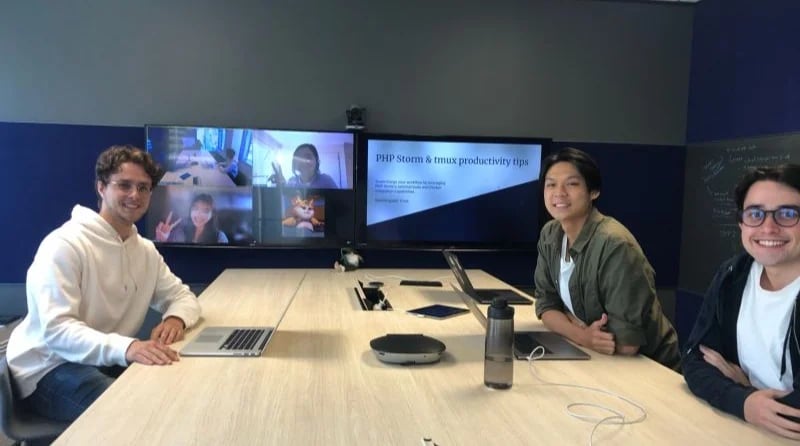 "I've always felt that the work I've done is important. My teammates have always been there to help, give feedback and guide me towards being a better developer" - Ethan

Figured is a highly sophisticated solution with intricate business logic and great data complexities; it's an amazing playground for someone looking to flex their development muscles and kick start their development career with a bang, but it's also super intimidating for those new to product development. When hiring interns we look for aptitude and focus less on experience, we believe their ability to learn and handle complexity along with great soft skills of collaboration and communication are more important than their experience across our core stack (arguably this is no different when hiring for dev roles too).
In order to make this work we ensure we have the systems that allow them to fail and learn fast, often underplayed but being able to push to production on their first week is a big deal to a lot of developers, let alone someone just starting their career, it is also an important part of learning, our technology leaders have designed a great safe production environment that ensure deploy jitters are kept at bay and developers getting that dopamine hit nice and early in their career, as a result motivating them further to learn and continue to seek impact.
"It was so exciting to be able to release improvements to production within the first week of starting at the company! I felt empowered and capable of making meaningful changes." - Chelsea

Purposeful and impactful work
We are super committed to our mission to create a more profitable and sustainable future for farmers. Accomplishing this requires everyone in our team to make an impact and interns are no exception, we speak to this early in the recruitment stage and make sure those that join us are as excited about our vision and the work.
"I immediately saw the impact of my work as it was released into production, which I wasn't expecting to do as an intern." - Callum

"We were never treated as "just interns" but as valuable members of the company; we were given tasks that had real impact on the company's product, had a fair say in meetings and were pushed towards excellence by our peers with incredibly helpful suggestions." - Dan

Fun, inclusive, connected
We ensure to balance the learning and hard work with lots of social time, to give the interns an ability to really connect with the team; this is done by creating lots of opportunities for collision. Whether it's through Friday Kai, our coffee walks first thing in the morning, weekly yoga (sometimes even ballet), ice cream Thursday, or across our many online social trivia and check-ins. Having five interns also meant that they can share those experiences with others and really help each other in that learning journey.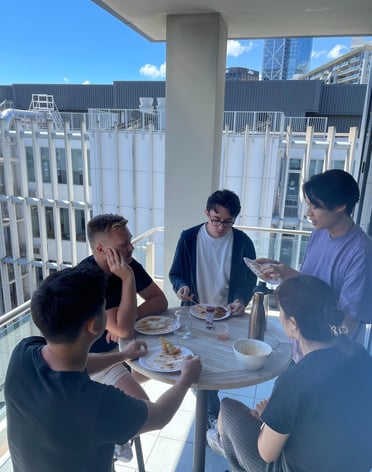 "There are so many opportunities to bond with each and every person at Figured, no matter what department you're in. Every Friday, the company organises 'Friday Kai' lunch for us with some of the nicest takeout food I've had." - Dan
"Aside from the work itself, Figured's culture was a big highlight, from morning coffee walks and Friday Kai to Lawn Bowls and BYO's. All in all, I couldn't have asked for a better internship experience." - Callum


Developer experience is important to us
We hire amazing talent and want to ensure the environment brings out their best work and selves, a big part of this is removing unnecessary friction in clunky tech and processes, but also by ensuring we give them an overall environment that fits how they like to work best.
From a technical perspective, we invest heavily in ensuring developers have great gear with laptop specs, good version control practices and elegant and seamless production processes; the dev environment setup is one button away and you're able to push to production from day 1.
And equally important that we cater for the growing appetite for hybrid and flexible work, this was no exception for our interns, who were empowered to do their work from the fun central city office or the comfort of their own homes.
"Starting the internship, we were immediately given Macbook Pros. I'm currently writing this on an i9 MacBook Pro; you're given top-of-the-line gear. Figured also provided us with any/all peripherals we needed and waits to know your preferences" - Dan
Internships are a hugely valuable tool for us to continue to bring great talent into Figured, we are always looking at ways we can further refine our programme to give our interns a more supportive, engaging experience packed with real product development to kick off their career as world class product engineers for Figured and the wider tech community.
If you're keen to find out more about Life at Figured, follow us on Instagram, and keep an eye out for new job postings on our Website and LinkedIn. We hope to meet you soon!