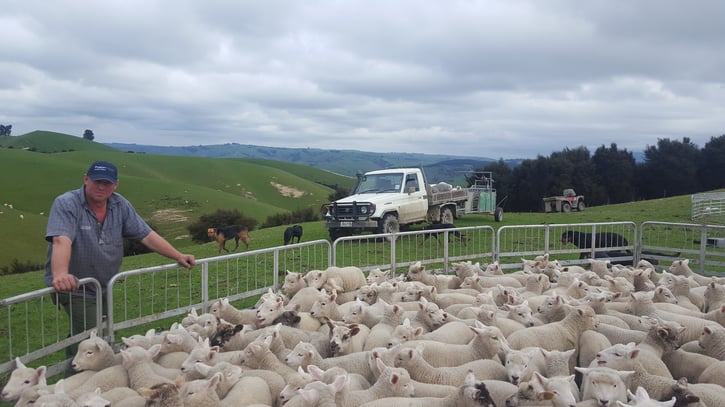 Paul and Mandy Eason are the owners of Overhill Farm, which covers about 4,500 acres, of which about 1,500 acres are not worked yet and there are plans for development. They have two kids and employ two workers who live on the farm.
Originally, the Eason's used Cash Manager Rural and Banklink, but when Xero turned up they decided to jump on board. To complement their accounting system, they implemented Figured for their farm management.
"It's really helped me more than anything because budgeting was what was always done with the bank and I had no control over. Especially now that we own the farm ourselves, we've got to be across the budget and make it work".
"When you see how Xero and Figured complement each other so easily, I wouldn't go back to how I used to do my financial management."
"The system works really well and it's constantly improving. It's making a big difference to what we do."
The software proposition
As Polson Higgs introduced the Eason's to Figured and Xero, their partnership developed more because Paul needed to understand the budget and actuals all the time.
"Having the understanding that we're all on the same page at the same time, looking at the same data - that's key.
We can have a meeting anywhere at any time, because it's all live and actuals, and you can look straight at my accounts, and we're all looking at the same screen. I can talk to them on the phone with Figured open and we can have that conversation. You've got people helping you all the time, yet you're doing it from your home or farm."
"I'm a young farmer, I've got a ton of debt, and I need to know that I'm not making a mistake."
"With the systems in place, all the info is right there, all we have to do is code everything up. My wife Mandy does all the accounts, payments, GST and codes in Xero. I code stock movements in Figured and then ask her to go back to Xero. So in that regard, I don't often look at Xero, I look at Figured—Mandy does Xero. But they talk to each other so that makes it easy for us to both know what's going on."


Budgeting
Paul's first budget in Figured was about three years ago - starting with inputting Rabobank's original budget into the system first. Then he could work to it and see what he was measuring against. Over the last few years, Paul has been creating his own budget in Figured with his advisor, Tom Hanning, from Polson Higgs.
"Budgeting I do in conjunction with Tom, my advisor. You can roll over a budget and look at what the forecasts are stock transfers, and I can put the info in and we do it right there and then on the big screen. We ask the questions: 'yes that works, no that doesn't, where has this gone?'
"I update my budget monthly or whenever there's a speed bump. I'm at a stage where I know what I need, have ownership over my budget and know exactly where I stand. You use your budget to dictate what you're going to do:
How much fertiliser have I got left to spend on?
Can I buy more fencing material?
Do I have room in the budget?
Oh, I've overspent on that line, that'll counteract it so no I can't.
Unless you've got your actuals up to date, how are you supposed to know?"
"Before Figured and Xero, my thoughts about budgets were 'a budget's a budget, and it's only as good as the day it's built by the bank'.
"Now it's visual, I have control over it, and it allows me to see it".


Importance of the farming team
"We're all looking for assurance that we're doing the right thing and tracking it correctly, or why things have gone wrong. Rather than having that conversation blind, you can pull up the system, look at the budget and call the bank. They can be like 'oh no, your lambs didn't sell well' because they can pull this information up, it's transparent, and then we can all work together to figure it out. Having a team behind you is so important."
"The opportunity of having three minds on a budget far outweighs just my own. You can get narrow-minded if you can't see something yourself. With a team, they can help you figure out what you've done wrong and give you assurance on whether you're heading in the right direction. If you've coded it incorrectly, the system will show that the numbers aren't equal.
"It's great that Xero, Figured and Rabobank's numbers are all the same if everything has been coded correctly. It builds trust between us all."


Scenario planning
Last year, Paul made a wrong call and bought a tractor. He didn't pick up that there was still a hire purchase for prior year asset purchases, so alarm bells started ringing. "I called Tom and said 'hey, I stuffed up and did this'. We used the scenario tool and punched out the budget and forecast, so then I could go to Craig (my Rabobank Bank Manager), and say this is what I've done, but this is what we can do to fix it. It's all about having visibility to make decisions."
"In the scenario, it all drops out and I end up being fine after a year. This tool is so helpful because you're looking for assurance, someone to say it's all alright. You've ordered a tractor from overseas it's not something you can just cancel."
"Being able to show and tell Craig: this is what happened, these are the implications, but this is what we can do about it—that's invaluable."
As a rural manager, Craig has the information to be able to make the right decisions for his client, and suggest what they can do in terms of lending as well.
"The power of that information means you get the right decisions made. We're all on the same page, there are no surprises".
Paul now catches up part way through the year with Polson Higgs and Rabobank to do scenarios, look at his budget and see how he is tracking.


Life aspirations and goals
"You may have overarching goals of retirement, kids, farm development, water skiing—and think about how can I get there? What am I doing in the budget and how can I get there?"
"Life can throw curveballs, and you have to be prepared to make decisions and changes which may affect your farm financials. Government regulations may come into play which changes things for me, but I want to think long-term, succession, leaving something for my kids and retirement, and so I have to be on top of my budget."


A banker's perspective
Craig Turnbull, Rabobank Rural Manager, tells us that from a banker's perspective it's fantastic because they get real live data that they can drill down. More requirements are coming in from a banking perspective that encourages farmers to take ownership of their own budgets.
"We need to have some independence from the data that we're lending to. Taking control of your own numbers as a farmer is the biggest thing" says Craig."Not every farmer is keen to talk to their accountant or bank manager frequently. Why? They want to hide their financials or they may be scared of what we might say."


An advisor's perspective
Tom Hanning, Rural Advisor at Polson Higgs, has been working closely with Paul and Mandy
over the past 3-4 years around their financial planning. "It's been really beneficial to get a better
understanding of Paul and Mandy's farming business and what drives them as a family. It's also
been rewarding to see the lift in understanding of the financials and the active use of their
budget to monitor performance during the season.
"At the end of the day, it's about helping people to take ownership of their financials to drive profitability, so they can achieve their goals, both on and off-farm."